UNIOSUN Cut Off Mark 2022/2023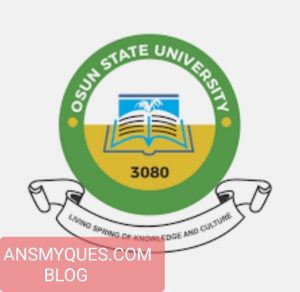 UNIOSUN Cut Off Mark 2022/2023
Hello there, welcome to the best blog for information,  I believe you're here to know about the 2022/23 cut off mark, of course the general cut off is out already and I'd like you check below in details you'd see all you asked for, don't forget to subscribe to ANSMYQUES which stands for "Answer my question", you're most welcome, now, without further Ado, let's get into it
This post had be in form of questions and Answers as the objective of the site name resonate, we Answer all questions…
Here is UNIOSUN JAMB & Departmental Cut off Mark for the 2022/2023 academic session. Check the cut off marks by departments of Osun State University, Osogbo (UNIOSUN).
This is to inform aspirants of the Osun State University, Osogbo that the cut off mark for candidates has been announced. Those seeking admission into UNIOSUN are to check the current UTME Cut off mark for UNIOSUN for all courses on this page.
UNIOSUN has announced the cut-off mark expected of candidates who are applying for admission into the school. If you meet the cut-off point, UNIOSUN would likely grant you admission provided your O'Level result is good enough.
UNIOSUN is one of the best tertiary institutions in the country however, they have a fixed cut off mark for all admission seekers into the school. Candidates who have scored up to that in the Joint Admissions and Matriculations Board (JAMB) Unified Tertiary Matriculations Examinations (UTME).
UNIOSUN Cut off Mark 2022
The current UTME Cut off Mark for UNIOSUN is 180. The Osun State University, Osogbo is inviting candidates who made UNIOSUN their first choice in the recently concluded UTME for admission into their department of choice.
UNIOSUN also has supplementary forms for candidates who did not meet the minimum cut off point for their department. Candidates are expected to have at least 5 Credits in their WASSCE or NECO Result in addition to scoring at least 180 in the UTME. That is the current cut off mark for all the departments in UNIOSUN. Candidates who wish to apply for admission into Osun State University, Osogbo should read about UNIOSUN Post UTME and also visit UNIOSUN Portal.
UNIOSUN Departmental Cut Off Mark
UNIOSUN Departmental cut off mark is 180. Subsequent changes to this cut off mark will be updated on The Osun State University, Osogbo website. It has been stated that only candidates who put UNIOSUN as their first choice are eligible to apply.
However, candidates that scored less than 200 would not be considered for admission into any of the under-listed programmes:
Accounting
Political Science
Nursing
Medicine
Law