UNILAG ACTIVATE 2020/2021 PORTAL, STUDENTS TO CHANGE THEIR PASSWORD AND START REGISTRATION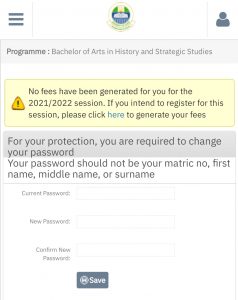 First of all log go to studentportal.unilag.edu.ng, log in with
Matric no : JAMB REG
Password : Your name in lower case
Then change your password, your current password is your surname in Lowercase
University of first choice and Nations pride this morning finally activate batch B student portal, so as to start registration in full, and also to pay their school fee, do note that one has to have gotten all the requirements before one can embark on any of the registration. What this is is that you'd be first ask to do the online screening which you can either proceed to cafe or upload yourself if you have a good camera resolution. It's always kind of difficult for people who hasn't work around the portal before and I'm sure you don't want to scatter things, you can text 08130184805 on whatsapp or call if you're around school, so we'd help you out at subsidised price.
Still don't know the requirements check this out, where we listed everything you'd be needing for your registration.
We can also help you with payment of school fee and even guide you through your registration process, text the number above on WhatsApp or call.
Summary
Your portal is where you can pay your school fee
With your portal you'd be required to register your courses
With your portal you'd be able to do online screening
With your portal you'd be able to print your screening form
NOTE : Before physical registration you'd be required to do online registration which will take place on your portal and this is like uploading your details