5 Business you can start in Nigeria with 50 thousand Naira
Hello Again,
By now, average Nigeria citizens are now economist, always analyzing the economic trend and the preferable solution to the problem at hand, the funny thing is it seems like no one hears it and the current economic inflated situation, where the naira has really lost its buying power, the need to make more profit cannot be overemphasize.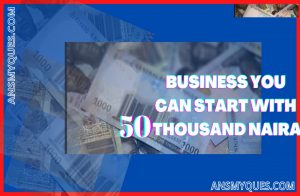 Here is the thing, many producers have taken advantage of the current economic situation to get richer. for instance,  you'd realize that you were buying rice for 8k per bag before, and your salary then was 10k, this means that the moment you get your salary, you probably buy 1 bag and still have 2 thousand naira left. now, the bag of rice inflate to 11 thousand naira, this means that your employer keep paying you the same amount as usual which is 10k but the money has lost it buying of 1 bag of rice power. now, out of frustration you request for increase but the company is ready to sack you. holding that if you leave 5 people wants to replace you due to the poverty on the street, this are one of the very many ways an employer exploit the fear of the employed.
This are things that shouldn't call for alarm as it hurt, all you need to do is hard work, consistence and diligence because that is what business requires. keep reading as we will use this post to talk about 5 business you can hop on with 50k and make good profit because being a business person can help you have upper hand over the situation.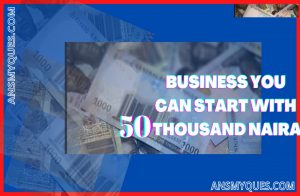 Bread Retailing :

I'm actually analyzing this from the eating behavior of Nigeria over these last three years, the demand for bread is too high and almost every regions now, be it "Lagos", "Abuja", "Ogun", "Port Harcourt "and even the inter lands of Nigeria now eat bread so much, it's a lucrative business one can use 50, 000 ( fifty thousand naira) to invest in, all you need is to analyze the behavioral pattern of eating each bread product around you. what does this mean? look at the one people like most, around here in Lagos, most people has grown out of "Agege bread" and fancy breads like "Ikeja mall bread", "Old English" and other fancies like "S & G", "Deluxe", "Delight" are what people are after around here, you only need to go to the company/bakery and ask for many, you can even start with 20,000 if you are a retailer or whole seller you'd be subsidize for sure. Try market it to people, tell people you can do free delivery for first two times, display them on your WhatsApp status and find a popular passing spot at night where you can display them. it's matter of time before people start seeing you as the ambassador of this company and your much involvement can on long run land you a role in one of the company. no one said it's going to be easy, but remember there is no harm in trying. every big business also start with fewer customers and few employees.

POS (point of sale) :

"POS" as it is popularly called in Nigeria can also be a lucrative business for someone with up to 50,000 naira savings. POS means "point of sale" but saying this in front of Nigerians will render most elder one even few youth included not understanding what the speaker is saying, it's better put as POS. Although POS is a risky business because it deals with funds and transactions, one has to be really meticulous with the machine usage and how you deal with customer. POS doesn't requires much one's you've gotten the machine, you could find a space with a friend, a kiosk, or an umbrella and chair in any selling point or front of your house, boom! business has started. The 100 naira on every 5,000 naira transaction is something, it's with time you'd realize people now know you and they are always okay to transact with known person, not another POS man next 4 street. Disclaimer : if you'd have to hop on business like this you have to be very meticulous as many people had record lot of fraudulent activities. If you are diligent and calculative you should make lot of profit because according to "EFINA", a development-focused organisation that promotes financial inclusion in the country, has it that "financial service agents increased from about 4 million in 2018 to 26 million using agents in 2020" with this increase anyone should be able to make good income starting POS business with 50k.
Kitchen (Online food Vendor) : can you cook? I mean cook delicious meal? has everyone been telling you that you are the definition of wife material just because of your sweet meal? then say no more! you can easily start an online food vendor with your brand name, there you go with names like "Sade's Kitchen", "Thomson's kitchen", "Tunny's kitchen" and so on and so forth. The eating habit of Nigeria probably varies by region and this is more reason why you should check the psychology of the people around you. how should you start? WhatsApp status is now a very powerful tool and even you can create a BC (broadcast message) for family and and friends so they know what will be on board tomorrow and if they would place order, take as low as 1 order, it might be stressful but don't because the order is low then you keep rejecting, I swear, there is nothing for you!, but when people see their orders are 100% certain to be delivered they'd order more not for themselves alone but for others and the referral trend keep expanding till you can't even remember where you started from again. According to a food philosopher "Man by nature likes food, it's the only way to survive each day", did you just ask the philosopher's name, man! he's dead
Data Selling Business : You really need not be a millionaire, or high-thousand-naire to start-up this business, you can just be in the corner of your room using your social media pages and there you go! you're cool, data service is really lucrative, you can do it with "Palmpay" app and some other apps, you just have to study how everything goes, you get subsidize if you're buying it in bulk then you resell to people. The psychology of data usage in Nigeria over the past 5 years have gone out of hand and many Nigeria citizens have been at the receiving end, though not solution but selling can create you your business and can make you thrive well even in the drowning economy, the key is how well you can get contact and referrals that had patronise you. You'd wonder what psychology of data usage is, and is it even a business to rely on?, well for now, I assure you, you can, because according to NCC, Nigeria Communications Commission, the commission report "Nigerians consumed 350,165 terabytes of data in 2021. Nigeria's telecommunications subscribers consumed 350,165 terabytes of data in 2021." This was disclosed by the Nigerian Communications Commission (NCC) in its "2021 Subscriber/Network Data Annual Report released"…source  NAIRAMATRICS SITE
Selling Provision/Junks food – it is more than normalised already around here that people can't do without junks, one could be a wholesaler or retailer of Junks food. The popular junks food in Nigeria include "Pizza", "Hot dogs", "Burgers", "Roasted meat (Suya)", "Cheesecake". Also, selling provision is another lucrative small business in Nigeria. This is just a popular way to say selling snacks like biscuit, short cakes, lollipop and so on, going big and having everything ready with as much as 50,000 (fifty thousand naira) will suffice and one should make good profit of it.