3 Similarities you don't know about Wizkid, Olamide and Davido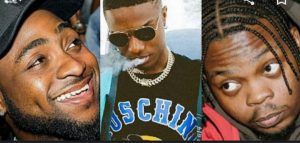 3 Similarities you don't know about Wizkid, Olamide and Davido
It is now an anthem everywhere these days that Nigeria biggest artiste are Wizkid, Olamide and Davido, anyways after the evolution of the first full fledge Nigerian, Burna boy, getting grammy he joined the wing of this three making a bigÎ four literally, although that's not the bone of contention here, we want to only discuss the similarities between the 3 mentioned.
WAS BURNA BOY THE FIRST NIGERIAN TO GET GRAMMY
|| NO, there were persons before him like
Sade Adu, who was born to a Nigeria-British parent
Sikiru Adepoju also, who happens to be a percussionist and recording artist and plays primarily in the genres of traditional African music and world music. He plays a variety of instruments and styles. He first won a Grammy in 1991 as a part of Mickey Hart's group Planet Drum, whose title album won the Grammy Award for Best Contemporary World Music Album. That was the first time there was a Grammy in that category. He won again on 8 February 2009 as a part of Mickey Hart's latest group Global Drum Project, whose title album won the Grammy Award for Best Contemporary World Music Album at the 51st annual Grammy Awards in Los Angeles. You probably don't understand what this person is singing but cos it does is meaning more with the talking drums and other instruments.
Also there is Lekan Babalola, musician who started playing the conga at an early age. He has seven albums to his name and two Grammy awards. He began his professional career after joining a band called Samba Samba Band and later New York City-based Art Blakey's Jazz Messengers band, where he perfected playing the Bongo drums and performing jazz music. In 2006, he became Nigeria's first Grammy Award winner for his work on Ali Farka Touré's In the Heart of the Moon which he was credited in three tracks. He also won a second Grammy in 2009 for his work on Cassandra Wilson's 2008 album titled Loverly. There are actually very many other persons you wouldn't think of, but come to look at it, the one that hit everywhere most was that of BUNA BOY!
THE SIMILARITIES BETWEEN OLAMIDE, WIZKID AND DAVIDO
1. NAME : This three big guys have a common thing in their name combination which is "DEJI", DEJI which literally means to "become two", although wizkid own is a bit different as his is "Ayodeji" (Joy becomes two) while Olamide and Davido are "Adedeji" (crown becomes two), you probably know this before but you might not be able to put it together.
2. Tribe : the trio are from same ethnic group in Nigeria Nigeria call Yoruba, which is one of the dominating ethnic group among the main 3, the other two are Hausa and Igbo and there exist very many minor ethnic groups.
3. MALE  Child : the three stars has a male kid, with wizkid son, Boluwatife, being the eldest, was given birth in 2011. funny but a similarity anyways tha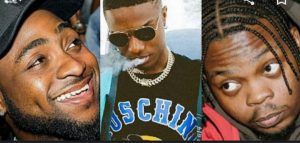 t DAVIDO, WIZKID AND OLAMIDE has a male kid. The kids are cute and are David Adedeji Adeleke (Davido's kid), Boluwatife Balogun (wizkid's kid), Batifeori Maximiliano Adedeji (Olamide's kid)
We hope you enjoy this and we'd like you visit our page more for other entertaining and educative analysis, have a nice time tada!