JAMB : HOW TO GAIN ADMISSION WITH LOW JAMB SCORE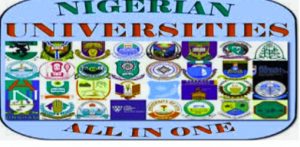 This post is made because of the very many students asking me how far about their chance of getting into university with various score, some ain't actually low but due to the course they want to study e.g someone who score 235 for LAW hasn't fail but truth be told his chance hasn't been solidify either, only on some grounds, so as someone who wants to study Medicine and Surgery but has 251 thereabout, you haven't fail but you haven't really pass either, this will be a very different thing to someone who wants Theatre Art or Philosophy, it will be relatively a high JAMB score for the mentioned.
YOU CAN IBKINTELLECT EDU WHATSAPP GROUP CHAT
Without further ado, I suppose I should just hit the topic up on how to get into higher institution with Low JAMB score, actually, I don't want this to be like a directive, IBKINTELLECT had like you only take from the pool of advise, rather than believe you must do any of the said below, all the choice are hard choices are hard but it's life if we can't wait sometimes we select the hard choice, don't feel bad it could happen to any one, you prolly have gone to tutorial for many month but it's like it didn't pay off, life sometimes is about looking for alternative even though, alternatives are hard choices. This post will make you understand what to do to have a better chance with your Low score
YOU CAN IBKINTELLECT EDU WHATSAPP GROUP CHAT
1. CHANGE YOUR COURSE : As much as you don't wanna hear this, it's might be prolly the best decision you're making, you have low JAMB score and you know that it won't work but you keep saying you believe!, I mean the University doesn't care about your feelings, you probably might text me on whatsapp with your school Name and course to reason with you any other course in line with what you wanna do and how you can go about it, you can do well to text me on 08130184805, don't call, I'm not good at picking calls, I'd reply you if you text. In the end we only regret the chances we don't take, so you won't be pain seeing your friends in school and you are still on street, make good use of the Low score you have. Very many friends of mine then got into school with a lesser course and then re-wrote JAMB again while in school then they were more calm and mind free and they got into LAW, MASS COMM, ELECT ELECT, they desire in the first instance.
YOU CAN IBKINTELLECT EDU WHATSAPP GROUP CHAT
2. ACCEPT YOUR DESIRE COURSE IN POLYTECHNIC : It might seems settling for less but if your JAMB score is less than 200, don't rather apply for university cos you are competing with people with high JAMB score, instead pick your desire course study it in polytechnic then after 2 years of your NATIONAL DIPLOMA, you'd use the certificate to cross to university.
3. TAKE JUPEB FORM : JUPEB means joint unified preliminary examination board just like JAMB but imagine an exam you write like WAEC but can land you in 200 level the only thing is the money at least you should budget 600k thereabout to get JUPEB form from Tutorials like us or you can approach university directly in their foundation department. This is an alternative to JAMB your JAMB score isn't even needed, only that you'd write exam and it not that hard if you can read, also, remove use of English, its only the three other subject people write in JUPEB no English Language. This can be an alternative if you have Money. You can text me on 08130184805.
YOU CAN IBKINTELLECT EDU WHATSAPP GROUP CHAT
4. FIGHT HARD FOR YOUR POST UTME SCORE : This is another Important thing, if you know you have the mind and you are sure you can face the post UME with all your heart and that you'd work hard, then go for it, there are cases where a person who scored 250 got admitted into LAW UNILAG upon scoring 25/30  in the post UME, post UME is a little tougher than JAMB and has little time compare, JAMB gives two hours post ume gives 30 minute for 40 questions using University of Lagos and UNIVERSITY of Ilorin as case study, other varies, although watch out for next post where I talk about experiences of difference school in post ume. If you know your O level (WAEC NECO GCE are referred to as ordinary Level) is not bad and you can do well in your post UME, you've got this!! I believe you!
YOU CAN IBKINTELLECT EDU WHATSAPP GROUP CHAT
5. IF THE ABOVE IS HARD, WAIT FOR NEXT YEAR JAMB : I won't guarantee you if next year UTME will be any better but if you can wait it's not a problem, there are living witness amongst my friend who did this but it takes courage then, I won't advise but suit you with your heart desires.
6. PRAY TO GOD : as much as we fight for what we want, man should strive to pray, pray that God give you the luck…
YOU CAN IBKINTELLECT EDU WHATSAPP GROUP CHAT
Good luck guys