Things to know about Olabisi Onabanjo University (OOU)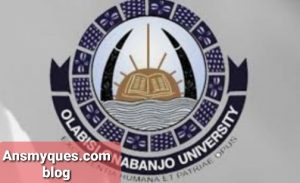 Things to know about Olabisi Onabanjo University (OOU)
This information were gathered together in an interview carried out with many student in the school.
THINGS TO KNOW ABOUT OOU
If you're just knowing, OOU has the Best ICT in Nigeria that can accommodate over 3,000 students
HOW MANY CAMPUS DID OOU HAS??
OOU has 4 campuses ayetoro, ibogun, shagamu, ago Iwoye
WHAT IS THE NAME OF OOU VICE CHANCELLOR ??
The current VC is professor Ganiu olatunji
Is OOU CALENDAR FAST??
OOU is among the best state university with a fast calendar. The university is operated on a multiple-campus basis.
WHAT IS THE MEANING OF POPULAR SITE AND MINI SITE??
The Main Campus in Ago-Iwoye is popularly called Permanent Site (PS) by the students and a Mini Campus which is home to other educational programs like Predregree, JUPEB etc
The university is privileged to have the best (As supposed which we ansmyques did not believe) Law, medicine, sciences and other degree programmes in Nigeria.
THINGS TO PREPARED FOR COMING TO OOU
Oou is also known as omobaba olowo university, the school is citadel of sun 🌄 🌞 as in you'll be black if you're fair.
WHEN WAS OOU MOVED TO PERMANENT SITE
The school was moved to permanent site 2001.
Where is their medicine and other medical school situated ??
Medicine (pharmacy, medicine and surgery, nursing, anatomy,medical biochemistry, pharmacology, microbiology and so on) campus.
Answer
Other campuses Except MCB, The rest is at shagamu
Places and hostels you can stay as an oouite
AGO
very popular, active, lively, but I don't like it cos it's too lousy, they don't have light over there while some part has, houses are cheap over there depending on ur budget
ORU
Oru is okay to me, the best place to live if you're an introvert very reserved place so quiet, power supply over there is very constant
Houses over there depends on your budget and good security not violent
For me I'll pick oru.
We will update you more as time goes on, so if you'd like to attend OOU this are things you'd need to know.