The Difference between Eid Mubarak, Eid-ul-Fitr and Eid-el-Kabir
The Difference between Eid Mubarak, Eid-ul-Fitr and Eid-el-Kabir
HEY THERE!
You're on this page because you'd like to know the difference between the words above, it's nothing hard to know, the first thing to establish is that there are two festivals muslim celebrates, this are Eid-ul-Fitr and Eid-el-Kabir/ Eid al-adha but the common way to greet in the both is saying to a fellow Muslim friend or a friend Eid- Mubarak which is more like Happy Christmas or merry Christmas in the Christian Denominations.
WHAT IS EID-UL-FITR??
Eid-ul-Fitr (Festival of Charity) is the festival celebrated on the first day of the month of Shawwal (10th month in Islamic calendar). Fitr means charity, which is obligatory for all Muslims and paid to the poor among the community. This Eid is celebrated after month long fasting during the month of Ramadan (9th month in Islamic calendar).
WHAT IS EID MUBARAK 
Eid Mubarak is the way of greeting the people same as Merry Christmas or Shubh Diwali.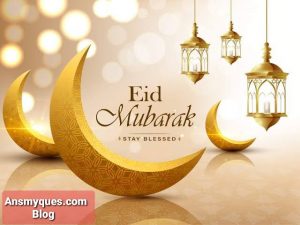 You can also suppose it this way that Eid Mubarak is an Arabic term that means "Blessed Feast/festival"….. Internationally Muslims use it as a greeting for use on the festivals of Eid al-Adha and Eid al-Fitr. Eid means "Celebration", and Mubarak (derived from the Semitic root B-R-K) means "Blessed".
The only difference is Eid ul Fitr is festival name while Eid Mubarak is greetings.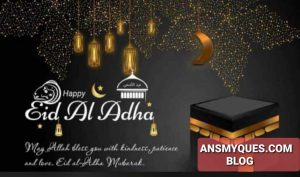 Eid ul fitr name of the festival muslims celebrate on 1 shawwal Arabic month after the completion of month ramadhan. Eid Mubarak means wishing let the festival be blessed .We have only2 eids one is Eid ul fitr second Eid ul adha on the 10th of Zul hajj which is the 12th or last month of Arabic calendar
What is Eid al-Alha/ Eid el-Kabir
On Eid al-Adha, Muslims demonstrate their obedience to Allah by sacrificing an animal. The holiday is inspired by a story from the Quran that is also known to Christians and Jews.
Is Id el Kabir a Public Holiday?
Id el Kabir is a public holiday. The is the day that muslim exhibit the common obedience to the belief to sacrifice an Animal, the ground is it does not follow same day every year, it varies, check below to see pictures of Id el Kabir/Eid al-Adha dates since 2017 till date and possible dates for subsequent ones.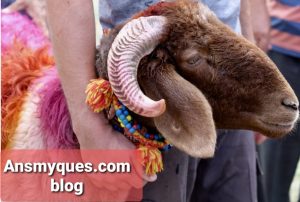 It is also a day off for the general population, Muslims in the North and the South and schools and most businesses are closed. In 2022, it falls on a Saturday, and some businesses may choose to follow Saturday opening hours. Although in Nigeria the following Monday and Tuesday has been announced by the Federal government as a public Holiday.
DATE OF EID EL KABIR FROM 2017 – 2027
See Picture Below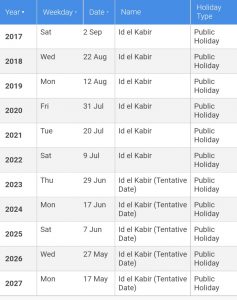 IS EID UL-FITR LIKE CHRISTIANS CHRISTMAS 
YES, MORE LIKE
THANKS FOR READING THROUGH, BYE FOR NOW!